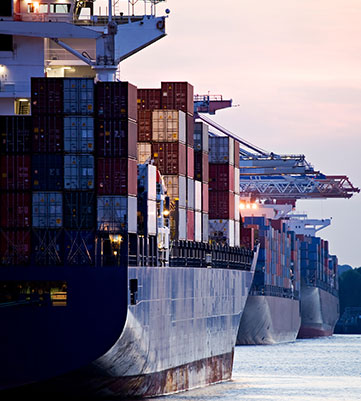 OCEAN FREIGHT
At APT Logistics we deliver highly flexible services through our partnerships with leading shipping lines.The cultivation of long-term, secure partnerships with major shipping lines brings tangible benefits to our customers as we have reliable links with all commercial centres worldwide which is why our Sea Freight services are among the best in the marketplace.
Through these connections we can guarantee capacity and also offer adaptability to the ever changing shipping regulations of every country and port thus enabling a smooth passage for your consignment.
Your cargo is safe with us
A wonderful serenity has taken possession of my entire soul, like these sweet mornings of spring which I enjoy with my whole heart. "But I must explain to you how all this mistaken idea of denouncing pleasure and praising pain was born and I will give you a complete account of the system, and expound the actual teachings of the great explorer of the truth, the master-builder of human happiness.
What makes us the best choice
Providing high quality transportation services to all of our clients
Invest in our employees to provide better service and company growth
Worry about enviroment according to latest industry standards
Safety as top priority in assuring safe work procedures
Investing in technology to provide fast, acurate and cost-effective service
Living up to highest industry standards
No matter how small or big your cargo, commercial shipments of 20' or 40' FCL Containers as well as smaller LCL ,Console cargo are handled with same individual care. For us no cargo is big or small and every size is valuable.
LCL (Less Than Container load) consolidation of cargo to / from all major ports across continents.
Consignees choose FCL transport when they have enough cargo to fill an entire shipping container. However, some people choose to reserve an entire container even if their cargo will not completely fill it. There are several reasons you may want to choose FCL for your cargo.
Benefits of Using FCL Include:
Faster Unloading Time: FCL is under the account of just one carrier and one consignee, customs can usually process the transaction relatively quickly using the bill of lading.
Easier Tracking: Whole freight can be tracked easily with the hel of container nos.
Better Security: A container needs to pass through a consolidation centre where additional cargo is added.
Goods Will Arrive Together:  can make the unpacking and transfer process faster.
Cost-Effective Shipping for Large Loads: Shipping rates are typically lower for FCL than LCL, making this the most economical choice for large loads (typically defined as 12 or more pallets).
We have contacts with all major shipping lines and consolidators, which allows us to offer competitive pricing on weekly shipping services. If you have a challenging & tight deadline, we can always assist.
(Over Dimensional Cargo) We provide special equipments like Flat rack, Open Top Containers of 20' and 40' sizes for Shipping odd dimension and outguage cargo for all major sea port destinations.
Break bulk service from Mumbai port for cargo Not suitable for containerization on break bulk Vessels.
With tie-ups with all leading shipping lines and reserved slots we ensure the best possible freight rates and transit times for your cargo to reach its Sea port or door.
We have a qualified team of personal who are certified to handle hazardous cargo shipments which require a high degree of care and observation to minute details for each class of cargo.
asdf fasdf asdfasdf asdfsd f
INDUSTRIES COVERED
Textile Logistics

Retail Logistics

Oil & Gas Logistics